You've made the investment, you've taken the time to hone your craft, and you're ready to take the media industries by storm… But how? This spring, SFTV In Conversation will bring industry gatekeepers to campus to discuss how their work helps media makers break into the industry and offer strategies for how to stand out as a new graduate. Mark your calendar, because this don't-miss monthly series will be filled with insights to help you convert your talent and drive into a successful career.
Join a panel of recent SFTV alums who have successfully broken into the industry as they discuss their lives after LMU and provide invaluable insights into what to do after you get that diploma. Graduation isn't an end—it's the beginning of a long and fulfilling career.
Meet the panel: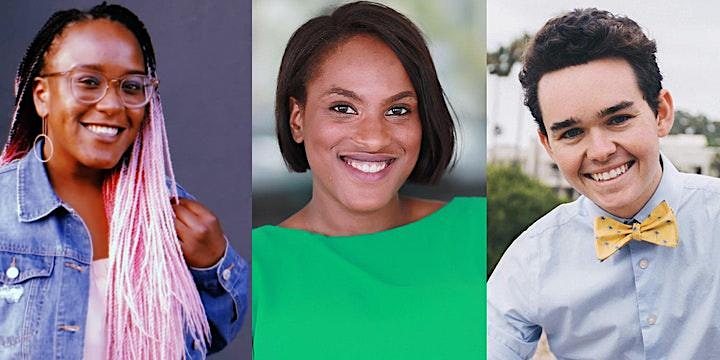 Octavia Bray (WPTV MFA '18) is a television writer and podcast addict whose most recent credit was Story Editor on the fourth season of Disney Channel's Raven's Home. She is an alumna of the 2017 NBC Writers on the Verge Program and the 2018-2019 Disney | ABC Writing Program, where she was staffed on the second season of Raven's Home. Her prior work experience included a job as the showrunner's assistant on the fifth season of Bojack Horseman and internships at Amazon Studios, The CW, and Imperative Entertainment. Octavia's side hustle is writing for podcasts– you can check out her work on Luminary's The AM Archives. She graduated from LMU in 2018 with her MFA in Writing and Producing for Television.
Tasha Henderson (WSCR MFA, '15) was born in Dallas, Texas, the land of vicious smiles and backhanded compliments. After graduating from Oklahoma State University, with a B.A. in Film Studies, Henderson went on to earn her M.F.A in Screenwriting from Loyola Marymount University. Henderson co-wrote the short film "Labyrinth," winner of the CineCause Women's Initiative and the Britt Penrod Audience Award. She co-wrote and produced Complex[ion] Woman, a play that explores the intricacies of Black womanhood, which won the Encore Producer's Award at the 2016 Hollywood Fringe Festival. Henderson was also a finalist in the Women in Film Blacklist Episodic Lab. Her most recent script, Jace and Aarav Exposed, advanced to the second round of the Sundance Episodic Lab. Most recently, Henderson wrote and produced her own web series, Dating Now, which was named an official selection of the Hollywood Comedy Shorts and Bronzelens Film Festivals. Henderson was also a writer on the web series Hard Medicine, which aired on the Urban Movie Channel. Henderson was a 2018 LMU Incubator Lab and a 2018 Project Involve Fellow. Henderson is currently a 2020 Walt Disney Television Program Writer.
Jack Hicks (PROD BA, '18) is the Executive Assistant to the CEO of Lionsgate Entertainment, a global content leader of film, television, and digital media. After graduating from Loyola Marymount University in May 2018 with a B.A. in Film/TV Production, a B.A. in Philosophy, and a minor in Business Administration, Jack worked as a temporary assistant through 11th Hour Agency before beginning his current position in October that same year. In his role, Jack coordinates calls, meetings, premieres, and special projects for the CEO, in addition to managing the corporate executive suite. Since joining Lionsgate, Jack has assisted the CEO through the company's theatrical releases of John Wick 3 and Knives Out, the television premieres of Zoey's Extraordinary Playlist and Mythic Quest , and the expansion of STARZ to over 30 countries. A native of Nashville, Tennessee, Jack currently resides in Los Angeles.